Pattern applications are endless, but there are never too many ideas when it comes to brainstorming new uses for your patterns. Here, inspired in part by a wonderful collection of 1000 dresses by Fitzgerald and Taylor, we ran through a few of such ideas.
Most of the source patterns are taken straight from the Artlandia Glossary and are included in a free bonus pack (in a vector format, of course) available with a purchase of SymmetryWorks. We did make minor alterations, though. Couldn't resist a temptation to tweak patterns on mockups when it's so easy to do with SymmetryWorks LP. We can make the modified patterns available too. If you wish to get exactly these versions, please contact us and we'll see what we can do.
Now, let's get to work. An animal print goes to a fitted round-neck knee-length sleeveless formal dress which underscores femininity (even within the constraints of business settings) and altogether creates a strong impression of authority.

A blotch pattern fits a sleeveless trapeze-shaped low-neckline jumper (pinafore) dress with shoulder straps, or an apron, worn over a blouse.
A Liberty-style pattern works for a sleeveless, body-fitted wrap dress, which is very appropriate for an hourglass figure and can be worn as a day dress.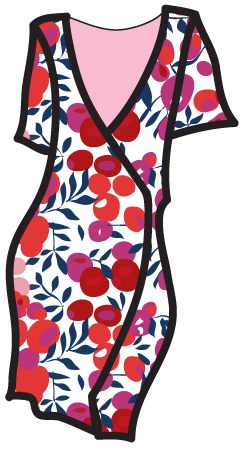 A non-objective pattern suits a fitted-and-flared dress with a tight fitted bodice and pleated A-line flared skirt.
A polka-dot pattern, and almost any other pattern with a small-scale set layout, works well for panelling on a sheath-like, body-conscious mini dress.
A vibrantly colored abstract print goes on a sleeveless shift dress with A-line skirt.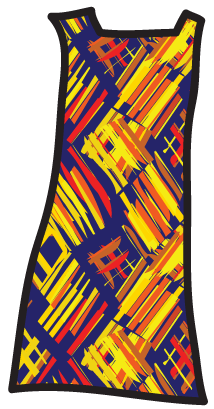 Gradation patterns, and particularly gradation-and-scale patterns, work well on a structured, wide-neckline sleeveless-shouldered A-line dress split along the underbust seam.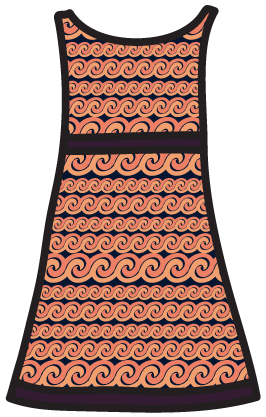 An airbrush pattern printed on a lightweight silk fabric goes to a circular-cut spaghetti-strap trapeze dress.
A plaid design suits a classic high-neckline fit-and-flare shirt dress with keyhole openings in the front bodice and front-placket ending below the bust.
A camouflage pattern is ideal for a loose-fit, double-breasted trench-style safari dress with storm flaps.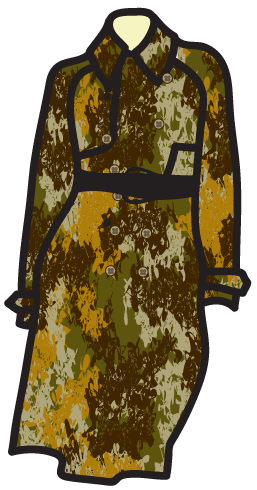 A timeless Art Nouveau pattern goes to a sun dress with a fitted bodice and a sweetheart neckline and a dirndl skirt.
An eccentric pattern adds sophistication to a fit-and-flare tea dress.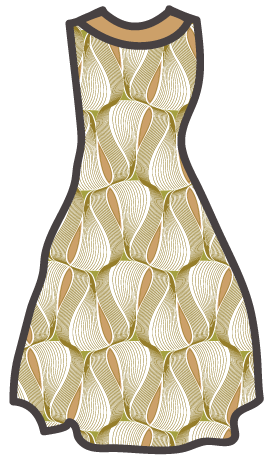 Geometric patterns, such as gradation patterns, among many others, suit a tank dress.
A bull's eye pattern adds an additional dimension to a traditional polo dress flared to the hemline.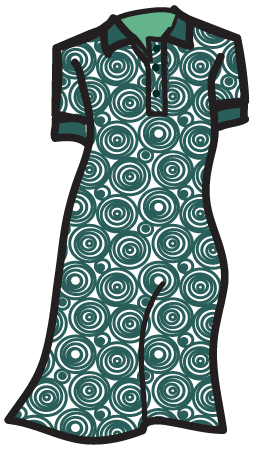 Many small-scale geometric patterns (we used an irregular repeat) look perfect on a tube (sheath), body-conscious, form-fitting dress.
A dotted-swiss pattern perfectly suits a dramatic long-sleeved Grecian cocktail dress that covers one arm and leaves the other arm bare.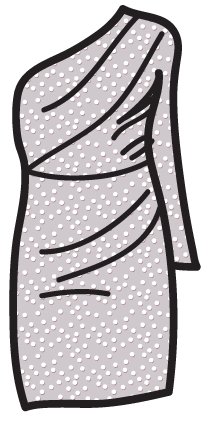 Did you like some of these ideas? Wish to see more? Leave a comment or contact us directly.