You often want to tweak your patterns to make them look just so. In SymmetryMill 2, you can do that with a rich collection of image filters:
Adjust Colors
Sepia
Polaroid Color
Reduce Colors
Sharpen
Pixelate
Add Noise
Dot Screen
Symbol Screen
Cross-Hatch Screen
Emboss
Blur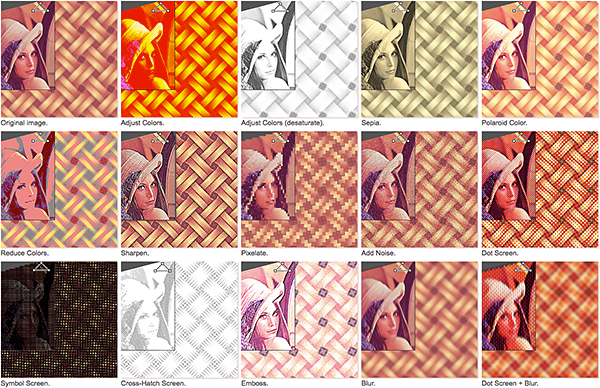 Importantly, filters in SymmetryMill are applied to the source image, not the end pattern, so your pattern always remains in repeat and there are no distortions on boundaries in the repeating tile, no matter how many filters are applied and in which order.
Have fun checking out the new filters. Start by downloading the latest SymmetryMill. Also see Using Filters in the user guide for more info about filters in SymmetryMill 2.
Last updated: June 7, 2017